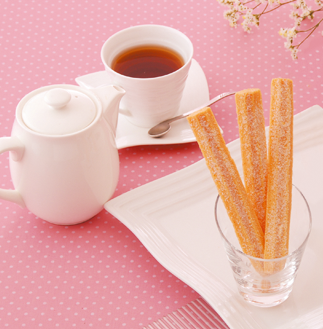 "Crispy-cookie-like Baumkuchen"
It is said that Japanese people eat Baumkuchen the most in the world.
This is probably because Baumkuchen is highly appreciated as a thing which is associated with an image of prosperity or longevity due to its appearance like layered tree rings.
To evolve traditional Baumkuchen to a new confectionery, Baumkuchen dough is cut into stick-shaped pieces and baked until golden brown. Each piece is finished to have a crispy texture like a cookie.
Its taste was evaluated by chefs and sommeliers among the best in the world, and this confectionery received two stars of iTQi Superior Taste Award from the International Taste & Quality Institute (only for the Hakata Amaou Strawberry).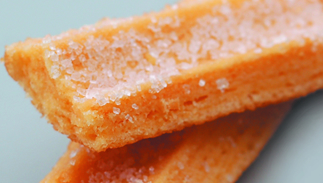 Plain
Hakata Baum Stick is a type of cookie through which you can enjoy the gentle sweetness of sugar and a mellow flavor of eggs that Baumkuchen originally has.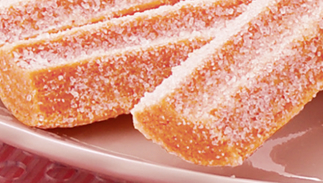 Hakata Amaou Strawberry
"Hakata Amaou" is the high-quality and high-grade strawberry that Fukuoka Prefecture is proud of.
"Hakata Amaou" is fully kneaded into Baumkuchen dough and baked slowly and carefully at a low temperature. The flavor of strawberries fill in the mouth with a crispy texture.
Name
 Hakata Baum Stick 
Freshness date
90 days from the day it is shipped  
Storing
no refrigeration
Specific raw materials
egg, wheat, milk ingredient, soy bean.  
Calories
Plain: 66 kcal per stick (our analysis level) / Amaou Strawberry: 61.4 kcal per stick (our analysis level)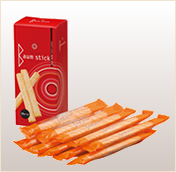 Hakata Baum Stick: Plain
10sticks
Price: 540 yen (tax included)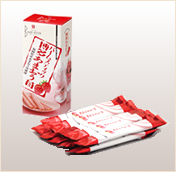 Hakata Baum Stick: Hakata Amaou Strawberry
10sticks
Price: 540 yen (tax included)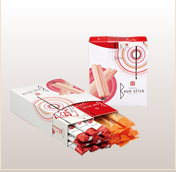 Hakata Baum Stick Assortment (Hakata Amaou Strawberry and Plain)
20sticks (10 Hakata Amaou Strawberry sticks and 10 Plain sticks )
Price: 1,080 yen (tax included)